Realistic portrait tattoo
Learn how to tattoo a realistic portrait and integrate this technique into your style.
2123 students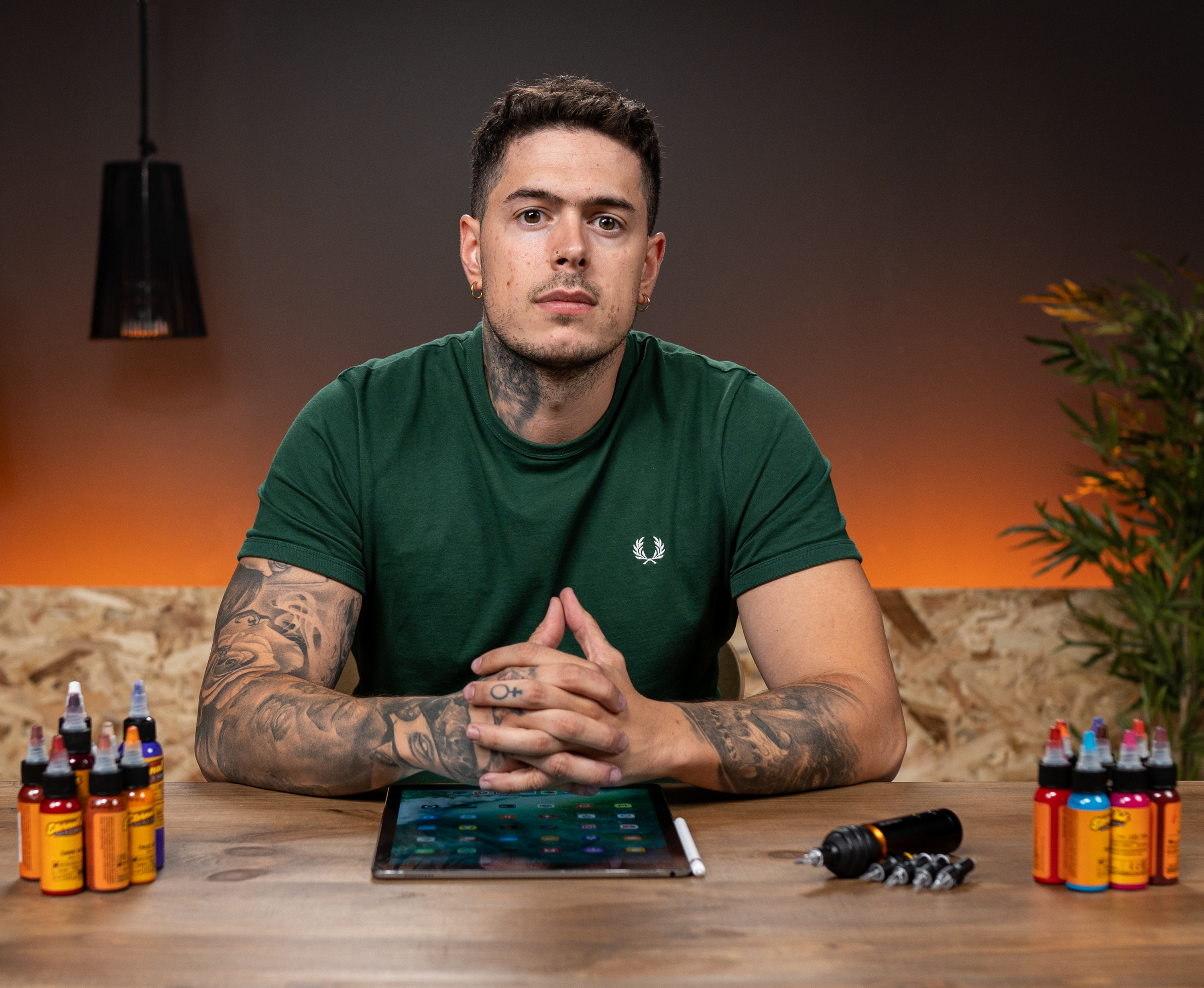 Adrián Sánchez
Instant access:
100% Online
Teacher's signed certificate
Additional donwloable material
Subtitles:
English, Español, Français, Italiano, Deutsch, Português, +32 languages
14-day guarantee, if you're not happy with your purchase, we'll refund 100% of your money. No questions asked. No content display limit.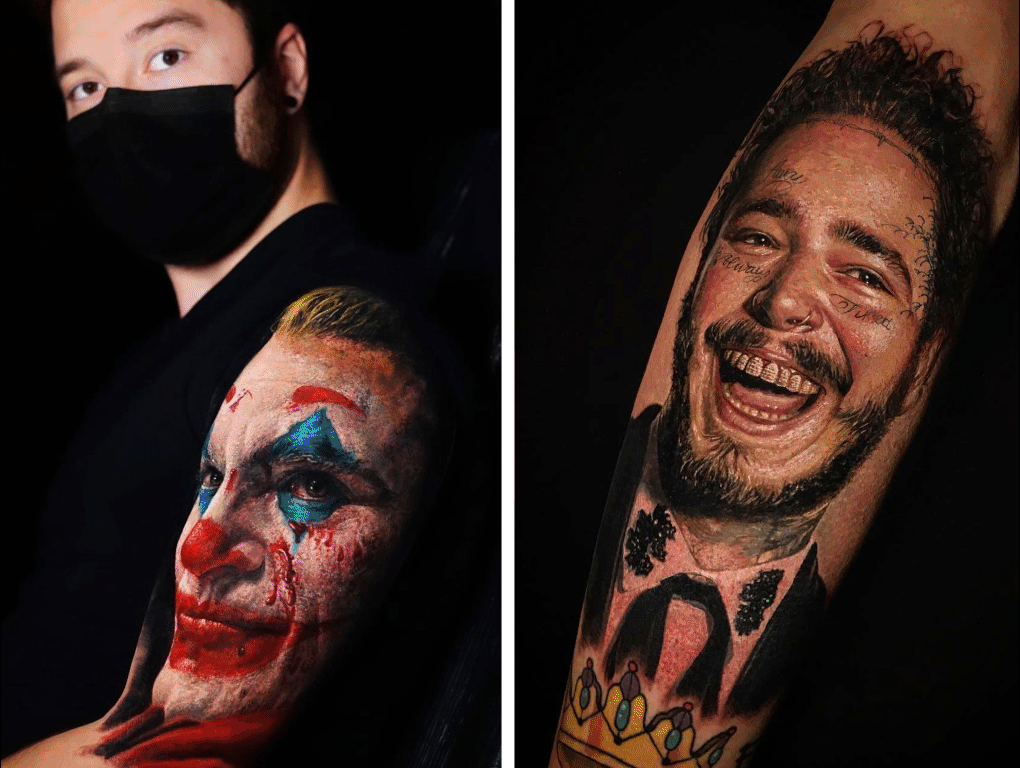 What does this course include?
1. INTRODUCTION
Introduce myself
04:22 min
What are you going to learn?
03:21 min
2. MATERIALS AND SOLUTIONS
3. CHOICE OF IMAGES AND PREPARATION
Image preparation
08: 22 min
I trace drawing I
07:16 min
I trace drawing II
09:27 min
4. DIMENSIONS
Skin adaptation
02:59 min
5. HOW TO START TATTOOING
Start Tattooing
07:19 min
6. TECHNIQUES
Needles, voltage and injection I
07:09 min
Needles, voltage and injection II
06:38 min
Techniques for a solid and realistic tattoo
05:38 min
Keys to creating realism
07:54 min
Textures and details
07:15 min
How much white do I need?
05:12 min
7. BLACK AND WHITE IDENTIFICATION
Common Mistakes
05:49 min
The Importance of Black
04:06 min
8. HOW TO MAKE THE TEXTURES, DETAILS AND BACKGROUNDS
9. TABLE SETUP
Table Setup the table II
03:21 min
Paste of the tracing
08:26 min
10. TATTOOING THE DETAIL
Tie, Shirt and Jacket I
10:14 min
Tie, Shirt and Jacket II
08:07 min
Tie, Shirt and Jacket III
09:42 min
Tie, Shirt and Jacket IV
08:55 min
11. NECK
12. MOUTH AND MUSTACHE
Mouth and Mustache I
09:40 min
Mouth and Mustache II
09:48 min
Mouth and Mustache Mustache III
08:17 min
Mouth and Mustache IV
09:18 min
Mouth and Mustache V
06:51 min
Mouth and Mustache VI
09:38 min
13. NOSE AND CHEEKS
Nose and Cheeks I
09:00 min
Nose and Cheeks II
09:58 min
Nose and Cheeks III
06:02 min
Nose and Cheeks IV
05:57 min
14. EARS
15. EYES
16. HAIR
17. FRONT
18. FINISHING TOUCHES
Final cleaning and finishing
02:43 min
19. TATTOO ALREADY HEALED
20. BONUS GIFT
How to heal a tattoo
05:37 min
21. PROJECT FINAL
Materials you need to start with
Teacher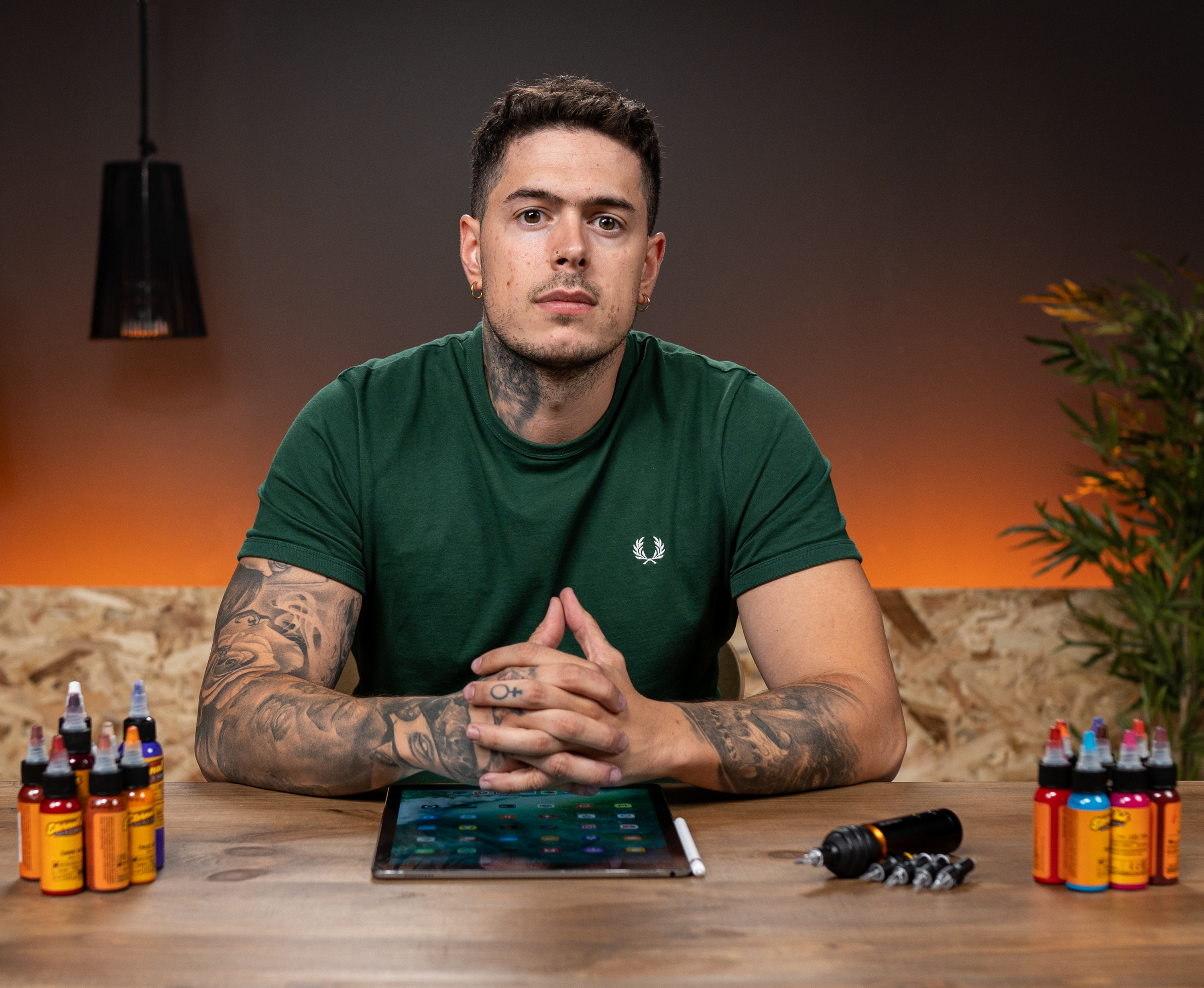 Adrián Sánchez
Tattoo artist and owner of Chinatown Tattoo.
Reviews
Candid video opinions from students who have transformed their lives.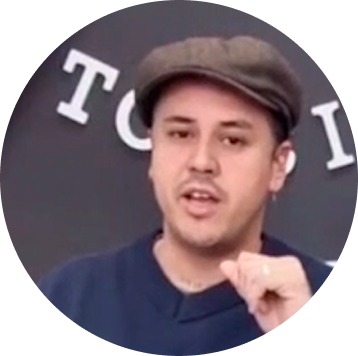 Alfredo Evangelista
España
Color realistic portrait tattoo
"The price is phenomenal, accessible to anyone. I have realized many techniques too need to be perfected."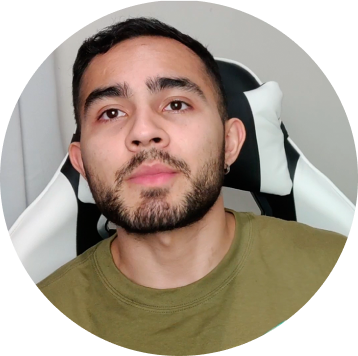 Ever Duque
Nueva York
Realistic portrait tattoo
"Totally recommended for everyone who wants to take a new step, apply a new technique and grow as an artist."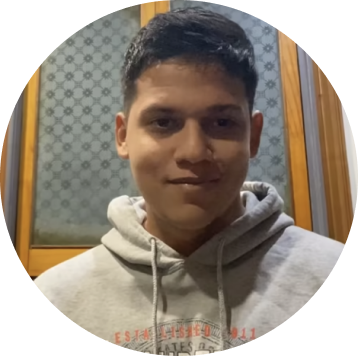 Yam Vega
Cuba
Realistic portrait tattoo
"I liked it from the first moment I saw the course for sale and didn't hesitate to get it, it is too complete and everything is detailed."
Excelente
El seminario cumplió todas mis expectativas, incluso puedo decir que las sobrepaso, muy bien explicado tanto para los que están empezando como para los más avanzados, lo recomiendo siempre y lo seguiré viendo muchas veces más para repasar los excelentes trucos enseñados…
Muy bueno
Muy bueno el curso.
Super bien explicado y ordenado.
Satisfecho y me llevo un buen aprendizaje de este gran artista.
Gracias
Super contenta
Me encanto el curso, bien organizado directo al grano, muy satisfecha la verdad, ya solo me queda presentar mi proyecto final el cual me tiene muy ilusionada. Muchas gracias y felicidades a los organizadores y al artista Adrián Sánchez
Explicación
Me pareció excelente !! Aprendí cosas que ahora aplico en mis trabajos muchas gracias
Habability Certificate
Accredit your training and progress with a final certificate signed by your teacher.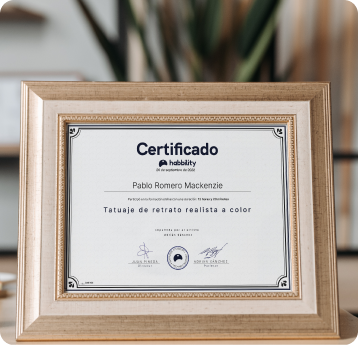 What to expect from a Habbility formation
Immediate access, for life and 100% online